Multi-ply fabric conveyor belt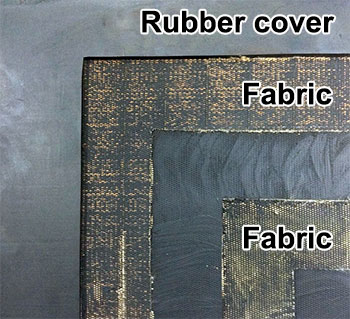 Features:
The general fabric conveyor belt is made of EP, NN or Cotton fabric and finished through the processes of calendering, firming and vulcanizing etc.
It is widely used in the fields of mine, ports,  electric power, metallurgy, cement etc.
Supplied belts in accordance with international standards, such as DIN22102, RMA, AS 1332, SABS 1173/2000 etc.
EP fabric type: 80, 100~630
EP fabric ply: 1~6 layers
Thickness of cover rubber: 0mm~30mm
Fabric Type
Fabric Structure
Type
No. of ply
Cover Thickness (mm)
Belt Width
Warp
Weft
Top
Bottom
EP
Polyester
Nylon
EP80
2-6
1.5-30
1.5-20
300-3200
EP100
1.5-30
1.5-20
EP125
1.5-30
1.5-20
EP150
1.5-30
1.5-20
EP200
1.5-30
1.5-20
EP250
1.5-30
1.5-20
EP300
2-30
2-20
EP350
2-30
2-20
EP400
2-30
2-20
EP500
2-30
2-20
EP630
2-30
2-20
Fabric Type
Fabric Structure
Type
No. of ply
Cover Thickness (mm)
Belt Width
Warp
Weft
Top
Bottom
NN
Nylon
Nylon
EP80
2-6
1.5-30
1.5-20
300-3200
EP100
1.5-30
1.5-20
EP125
1.5-30
1.5-20
EP150
1.5-30
1.5-20
EP200
1.5-30
1.5-20
EP250
1.5-30
1.5-20
EP300
2-30
2-20
EP350
2-30
2-20
EP400
2-30
2-20
EP500
2-30
2-20
EP630
2-30
2-20
Standards:
Standard
Cover Rubber
Adhesion
Tensile Strength
Elongation at Break
Abrasion
Cover to Ply
Cover to Ply
Ply to Ply
DIN22102
Mpa
%
mm3
N/mm(≤1.5mm)
N/mm(>1.5mm)
N/mm
DIN22102-Z
15
350
250
3.5
4.5
5
DIN22102-Y
20
400
150
3.5
4.5
5
DIN22102-X
25
450
120
3.5
4.5
5
DIN22102-W
18
400
90
3.5
4.5
5
Standard
Cover Rubber
Adhesion
Tensile Strength
Elongation at Break
Abrasion
Cover to Ply
Cover to Ply
Ply to Ply
AS1332
Mpa
%
mm3
N/mm(≤1.9mm)
N/mm(>1.9mm)
N/mm
AS1332-N
17
400
200
4
4.8
6
AS1332-M
24
450
125
4
4.8
6
AS1332-E
14
300
4
4.8
6
AS1332-A
17
400
70
4
4.8
6
Standard
Cover Rubber
Adhesion
Tensile Strength
Elongation at Break
Abrasion
Cover to Ply
Cover to Ply
Ply to Ply
RMA
Mpa
%
mm3
N/mm(≤1.6mm)
N/mm(>1.6mm)
N/mm
RMA-I
17
400
3
4.4
4
RMA-II
14
400
3
4.4
4
Standard
Cover Rubber
Adhesion
Tensile Strength
Elongation at Break
Abrasion
Cover to Ply
Cover to Ply
Ply to Ply
SANS 1173
Mpa
%
mm3
N/mm
N/mm
N/mm
A
18
400
70
5
7
C
20
400
150
5
7
M
25
450
120
5
7
N
17
400
150
5
7