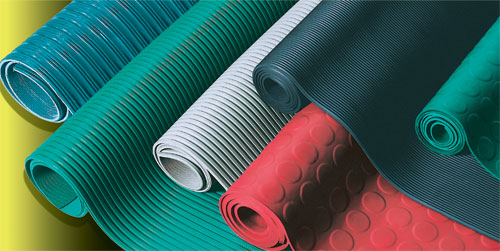 Introduction
With the widest product range in the market, StandardA can deliver rubber sheeting and rubber matting, quickly and reliably for all areas of use. Common applications include sealing, bearing parts and protection.
Our extensive range of rubber matting products is suitable for most uses and is extraordinarily tough in all applications like public places as rooms, shops, restaurants, stairways, entrances, airports, buses etc.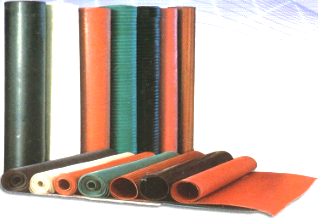 We can offer:
Smooth on both sides.
Smooth on one side + cloth impression on the other side.
Cloth impression on both sides.
Other special designs on one or both sides.
Sheets available in rolls, strips, plates o tiles.
Thickness from 0.2 mm to 50 mm.
Widths available up to 2000 mm.
General Purpose Rubber Sheeting
With more resistant to ageing,temperature and middle pressure, water-proof,anti-shock and sealing etc
General purpose rubber sheeting mainly used as sealing gasket,sealing strip,it also could be
put on the workbench or used as rubber matting.
Specification
Thickness: 1mm – 50mm
Width: 0.5m – 2m
Length: 1m – 30m
Technical Data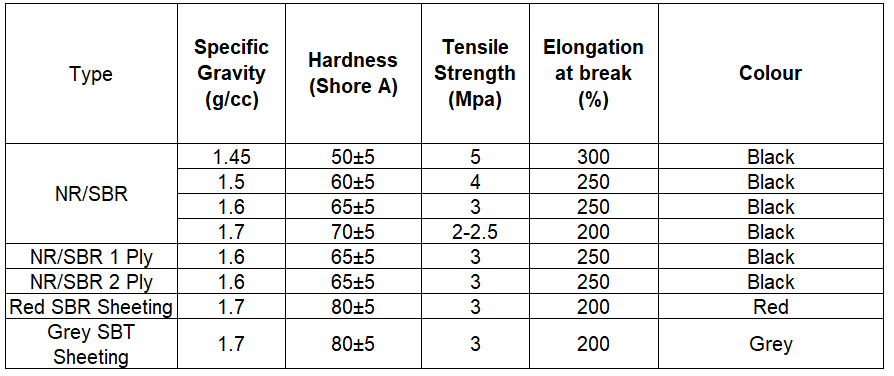 Nitrile (NBR) Rubber
With Excellent resistance to oils, solvents and fuels. Resistant to a broader range of aromatic hydrocarbons than neoprene.
Nitrile may be blended with SBR rubber to achieve an economically priced sheet or moderately oil resistant applications.
Temperature range: -30º C to +120º C, with the possibility of reaching -40ºC.
Technical Data

Neoprene(CR) Rubber
Excellent mechanical and abrasion properties even without reinforcing fillers;
Good resistance to heat, ozone and weathering.
Resistance to chemicals; resistant to inorganic chemical products , except oxidizing acids and halogens.
Moderate resistance to aliphatic hydrocarbons
Technical Data

EPDM Rubber
Excellent resistance to ozone, sunlight and oxygen. Excellent resistance to acid, alkali and ketones.
Excellent inherent high and low temperature ranges. Typically -45º C to +120º C for standard compounds.
Technical Data

Butyl Rubber
Excellent resistance to ozone, oxidation and sunlight.
Has very low resilience which makes it ideal for vibration damping and shock absorption applications.
Resistance to chemicals; resistant to most inorganic products. Highly resistant to mineral acids, alkalines and aqueous acids.
Technical Data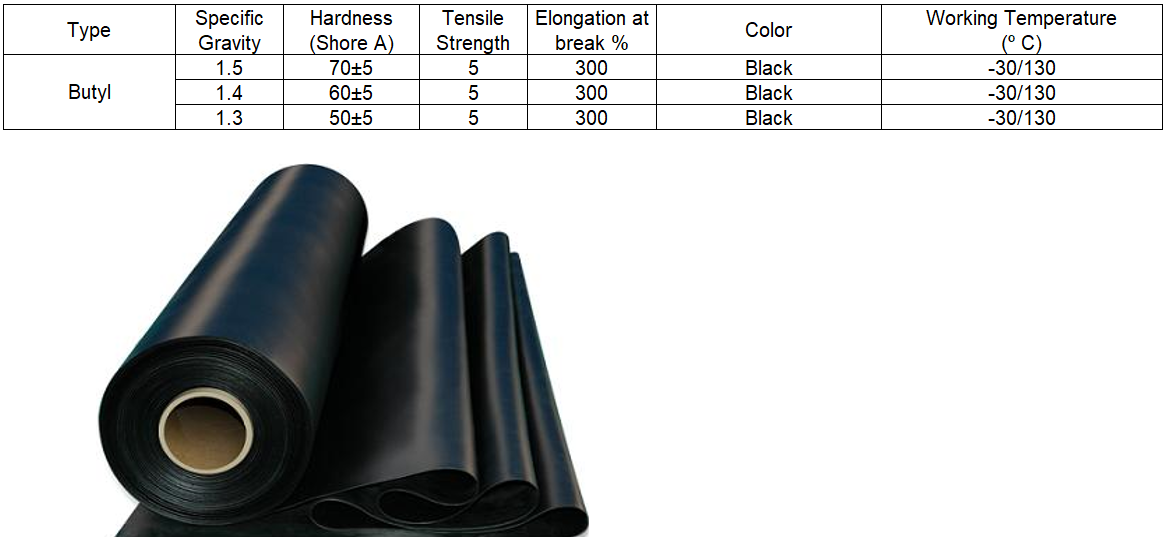 Special Purpose Rubber Sheeting
Hypalon Sheeting
Excellent resistance to oxidation and has outstanding resistance to atmospheric conditions an in particular strong sunlight and ozone.
CSM compounds resist fire and are self extinguishing when the flame is removed.
Resistance to chemicals; resistant to most inorganic chemical products, good resistance to general acids, oils and greases.
Technical Data


Silicon Rubber Sheet
Silicone rubber is physiologically inert, thus making it the preferred choice of the medical, pharmaceutical and food processing industries.
Silicones have comparatively low mechanical properties, tensile strength, elongation and tear strength, however they keep constant
even at high temperatures but should not be used with high pressure steam.
Resistance to chemicals; its resistance to oils and hydrocarbon products is fairly limited and similar to that of Chloroprene rubbers.
Reasonable resistance to a whole range of general chemical products, but acids, alkalis, esters and ketone should be avoided.
Technical Data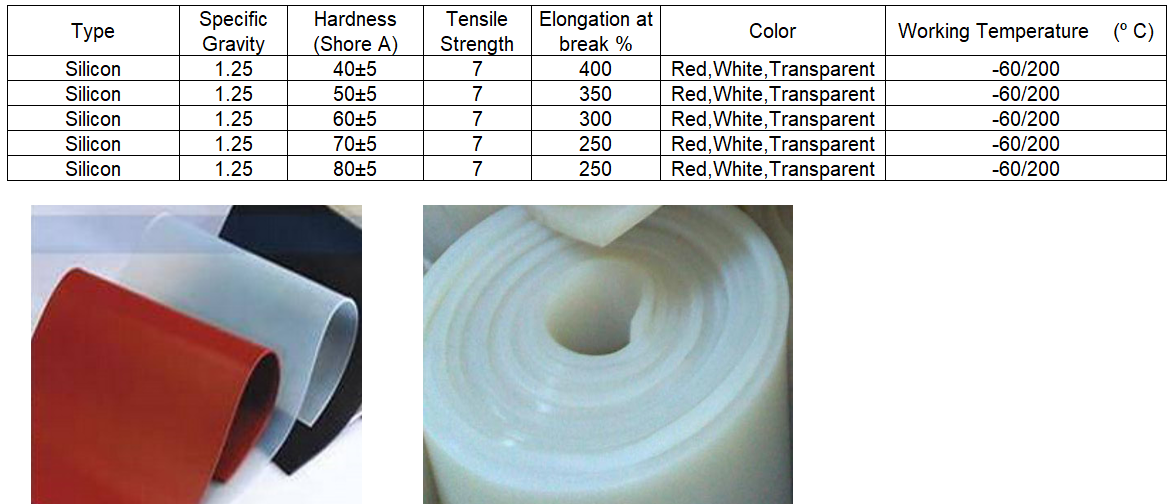 Viton Rubber
Viton is serviceable in continuous heat of up to 250º C and intermittent heat of up to 300º C.
Satisfactory resistance to low temperatures of typically -20º C and – 40º C by use of special grades.
Good flame resistance and are usually self extinguishing upon removal of flame source.
Have excellent resistance to oxygen, ozone and natural weathering..
Technical Data


Natural Gum Sheeting
Good gasket material due to excellent physical properties such as resilience, tear strength and wear resistance.
Natural rubber is used effectively as sand and shot blast curtain material because of it's high abrasion resistance and resilience.
Technical Data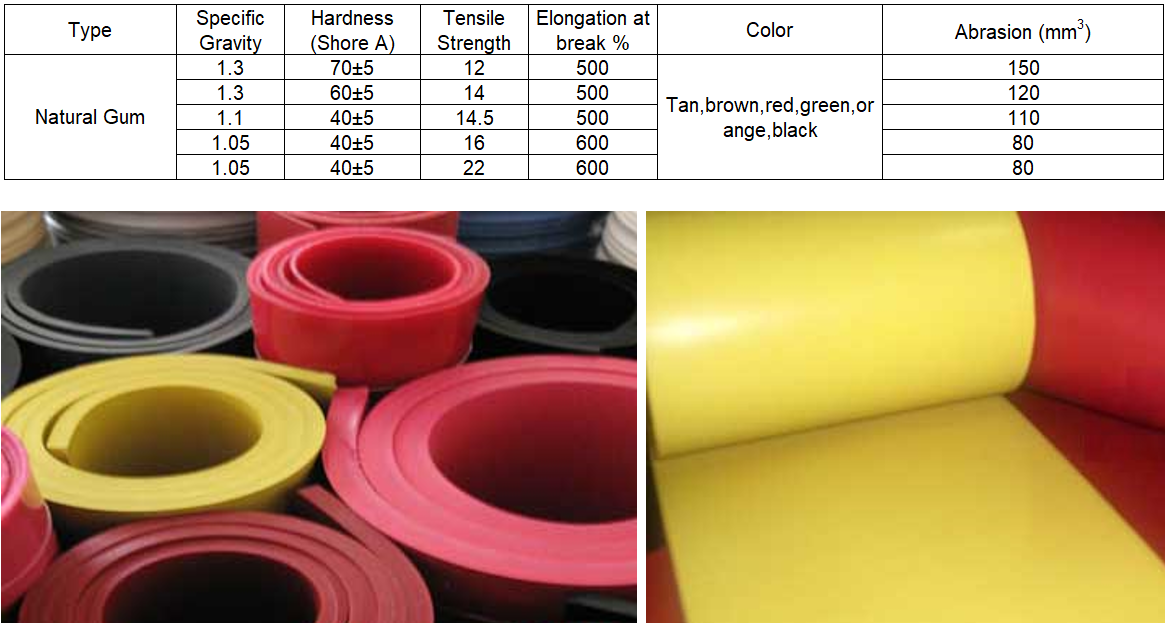 Pattern Rubber Matting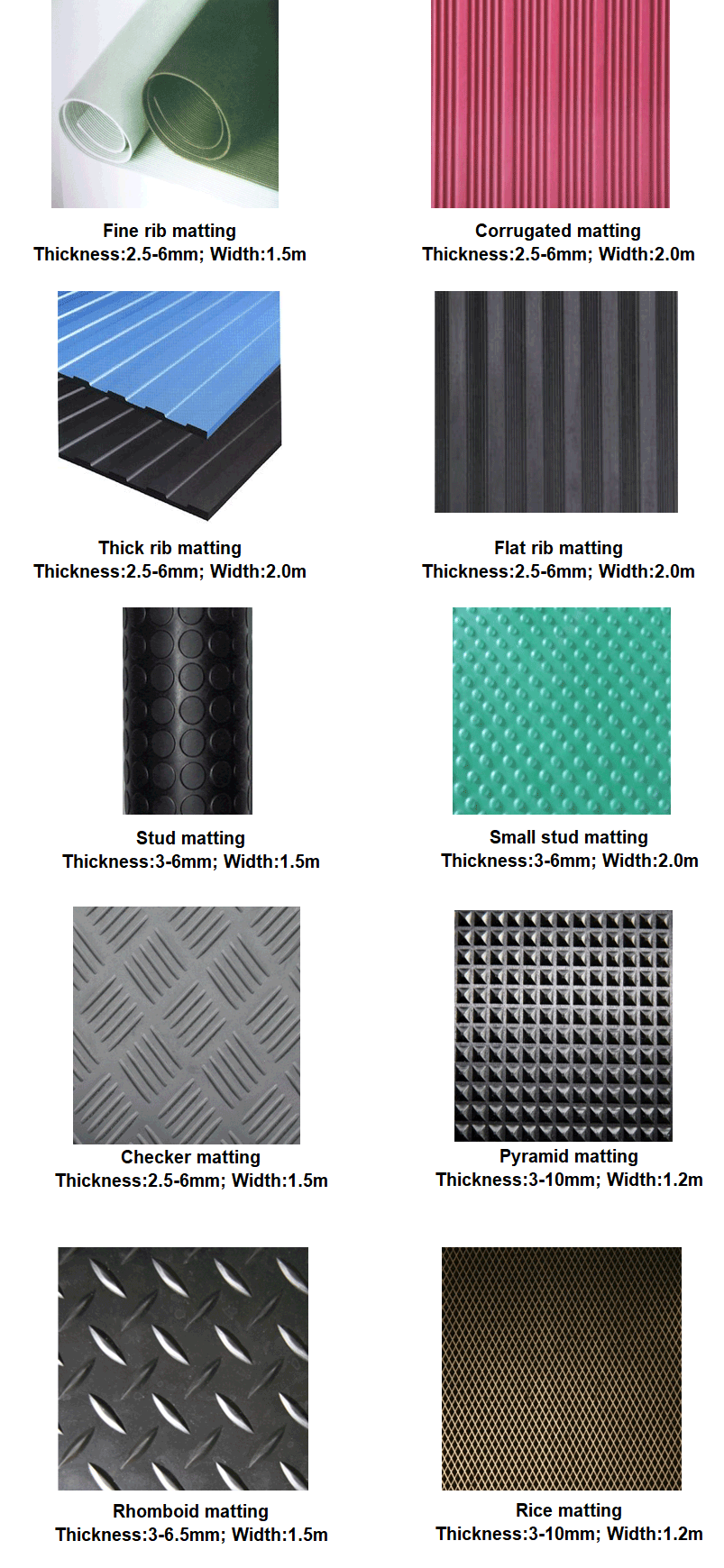 Anti fatigue Rubber Matting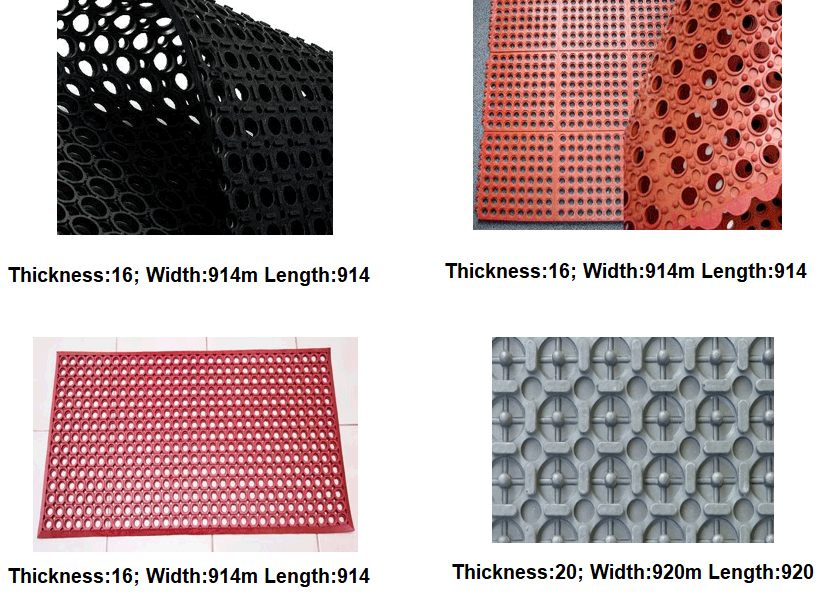 Agriculture Rubber Matting